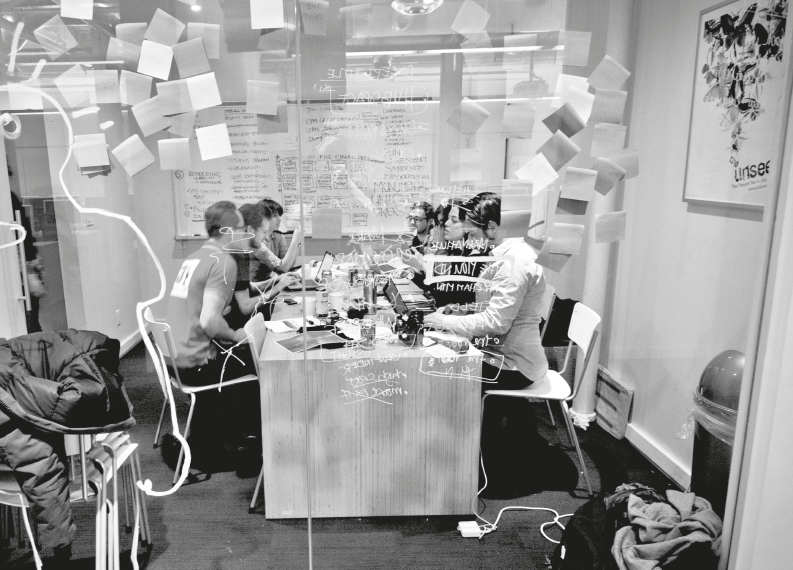 Charrette in Toronto
Institute Without Boundaries at George Brown College in Toronto hosts its 16th annual Charrette workshop in February 2020. Here students from around the globe gather in Toronto to become designers of the future.
Where
GBC Institute Without Boundaries in Toronto
When
February 20-24, 2020
Theme
Ethical Smart Cities
Cost
Transport + Accommodation + some food Workshop fee: 100 Canadian Dollars
KEA Grant
Selected students will receive a KEA Grant to cover some expenses.
KEA students can apply join the IwB Charrette in 2020 and experience how to work in an intense design workshop with international students from many different disciplines. Learn more about how to apply in the bottom of the page.
IwB Charrette brief
This year, the Institute without Boundaries (IwB) is challenging students from around the world to understand, visualize and propose design solutions and scenarios for Ethical Smart Cities.
As technology becomes further integrated into our daily lives and culture, this is an opportunity to use design as a method of understanding and exploring emerging trends and forces, and re-imagine a more ethical, inclusive and sustainable future that redefines the future of cities in the context of the 21st century.
The current dialogue around Smart Cities focuses heavily on the integration of ICT infrastructure, however, more robust visions of smart cities include emerging technologies such as clean energy and biotechnology, which have the potential to transform the way we plan, develop, construct and live in cities.
To encourage diverse and creative solutions, students will be encouraged to explore solutions to ethical smart cities through the following themes:
Data Governance Structures
How can we create ethical data governance structure solutions that create an ethical, efficient and trustworthy Smart City? Students must consider existing governance structures, planning and policy typologies.
Public Engagement Strategies
How can we improve the effectiveness of participatory engagement within Smart Cities? This will encourage students to understand, visualize and propose new strategies that address public engagement issues in Smart City planning and development.
Procurement Frameworks
How can we improve the effectiveness of smart city building and funding? Students will propose new strategies that address public procurement issues in Smart City development, and what can be created to make it more public facing.
If you have questions, please contact Anne Dibbern on annd@kea.dk 
Deadline for registration has passed and you can no longer sign up for this workshop.