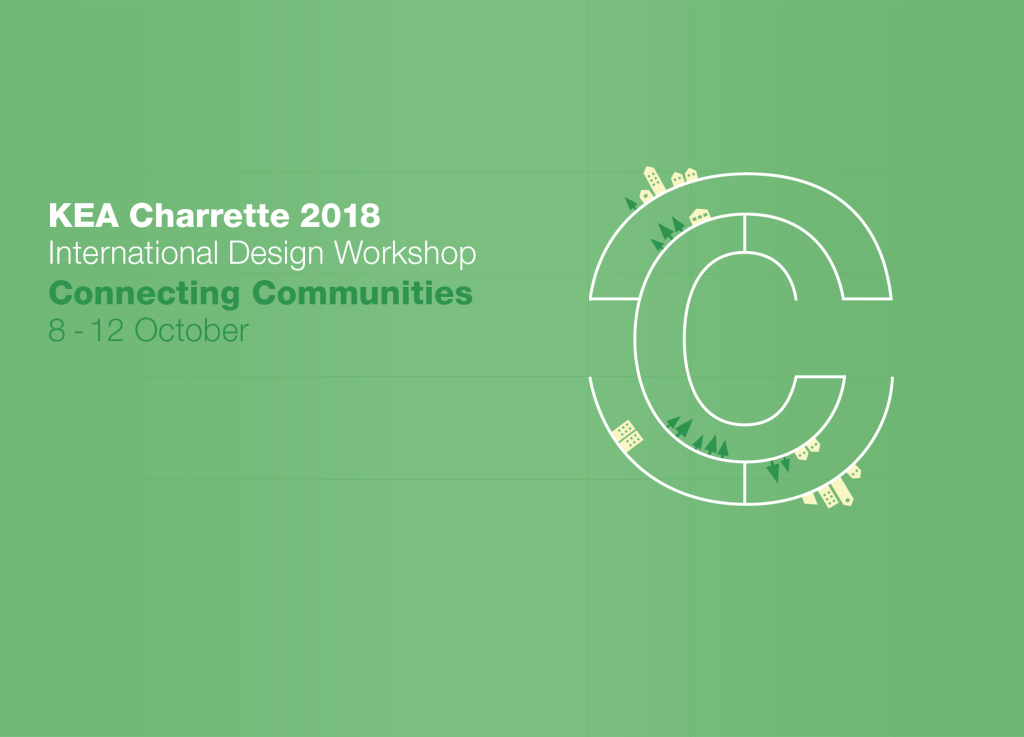 KEA Charrette 2018
For the 7th time, 80 students from around the world gathered for a week in Copenhagen to participate in the international workshop event – KEA Charrette. This time the central theme was "Connecting Communities - Inclusive Design in the Copenhagen Nordvest District".
See here what happened during the 2018 Charrette
Connecting Communities in Nordvest
For this year's Charrette students would immerse themselves in local Nordvest organisations to see where and how to connect communities using an inclusive design approach. The participating organisations where:
The Trampoline House – a welcome house for refugees in Denmark
Lygten Station – a culture house and venue
FabLab NV – an open fablab located in NV
Goldscmhidt Academy and TEMPI – community organisations working with folk music and culture
Beboerprojekt Puls – a housing organization for residents in NV
The groups were free to create any solution they felt would work for their collaborating organization. Learning how to work with Service Design principles in order to identify the best solution was an important part of the Charrette week, but also (at the heart of the KEA Charrette) groups would have to harness the knowledge and creativity of diverse group members to come up with a final concept.
Music and Culture
To help the groups reach their best solution the Charrette had a number of knowledgeable and talented people intersect the week with their point of view. Once again KEA teamed up with the all-knowing local organization Vibe&Tone in order to put together the best program for the week.
Additionally for 2019 Vibe&Tone were joined by Folk Music Organisation TEMPI which made sure that the participating students received a healthy dose of music culture through three very different concerts: Danish Folk Dancing, Alternative Folk and Klezmer Balkan Jazz.
On Kick-off day the students were introduced to the history of Nørrebro and Nordvest by KEAs resident historian, and they experienced a slice of Danish culture with a folk dancing class.
Throughout the workshop students attended presentations by experts on Nordvest Culture, Service Design, Culture and Music, and Concept Development and were visited in their workspaces by the competent Charrette advisor teams.
The final concepts
The results were as varied as the participating students. Concepts included giant building blocks, ever-changing public message boards, greenhouse cafés, multicultural food trucks and much more. The jury was very impressed with the depth and scope of the concepts and debated long about the merits of each group concept. In the end the concept of Group 6 won the title of "Best Project" - their idea to involve all the residents in a simple, cost free, and democratic way made them stand out.
See the video below where students talk about their projects and Charrette experience and click on each group in the list to learn more about their concept.
KEA Charrette 2018 Overview
Where
KEA - Copenhagen School of Design and Technology
9 Schools
Beuth Hochschule für Technik, Berlin, Germany
Fontys University of ICT, Eindhoven, The Netherlands
George Brown College, Toronto, Canada
London South Bank University, London, United Kingdom
Otis College of Art and Design, Los Angeles, CA, USA
Politecnico di Milano, Milano, Italy
Senac São Paulo, São Paulo, Brazil
THEi, Hong Kong
KEA, Copenhagen, Denmark
72 Students
Architecture
Construction Technology
ICT & Media
Industrial Design
Graphic Design
Communication and Journalism
Advertising
Design
30 Expert Advisors
Anne Dibbern
(KEA, Copenhagen, Denmark)
Peter Staal
(KEA, Copenhagen, Denmark)
Rasmus Rahbek Simonsen
(KEA, Copenhagen, Denmark)
Martin Bille-Hansen
(KEA, Copenhagen, Denmark)
Bo Mahs
(KEA, Copenhagen, Denmark)
Alan Engelhart
(KEA, Copenhagen, Denmark)
Mille Wilken Bengtsson
(KEA, Copenhagen, Denmark)
Morten Kjær Stovegård
(KEA, Copenhagen, Denmark)
James Harty
(KEA, Copenhagen, Denmark)
Dina Jakobsen
(KEA, Copenhagen, Denmark)
Christina Rungstrøm
(KEA, Copenhagen, Denmark)
Julia Polinna
(KEA, Copenhagen, Denmark)
Gisela Glass
(Beuth Hochschule für Technik, Berlin, Germany)
Mattias Esig
(Beuth Hochschule für Technik, Berlin, Germany)
Constanze Thomasson
(Fontys University of ICT, Eindhoven, The Netherlands)
Lori Endes
(George Brown College, Toronto, Canada)
Luciana Chen
(Senac University, São Paolo, Brazil)
João Terezani
(Senac University, São Paolo, Brazil)
Richard Shelton
(Otis College of Art and Design, Los Angeles, CA, USA)
Rafaella Colombo
(Politecnico di Milano, Milano, Italy)
Elisabeth Fenuta
(Humber College, Toronto, Canada)
Bianca DiPietro
(Humber College, Toronto, Canada
Uwa Mercy Aghedo
(FIT, New York, USA)
Cheung Pun Sin Benson
(THEi, Hong Kong)
Leslie Chen
(THEi, Hong Kong)
Rasmus Petrussen
(Vibe & Tone, Copenhagen, Denmark)
Mads Mazanti
(Vibe & Tone, Copenhagen, Denmark)
Roxana Marghidanu
(Copenhagen, Denmark - Architecture & Design)
Leslie Endes
(Toronto, Canada - Architecture)
Lazlo Biró Nielsen
(Copenhagen, Denmark - Architecture)